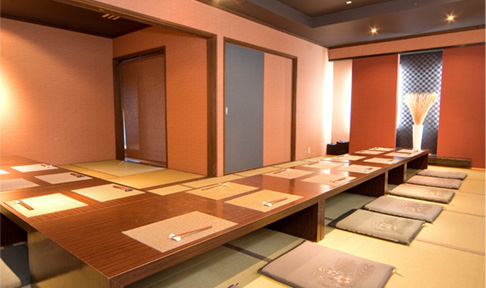 Seasonal Cuisine & Inaniwa Udon
WARAKU
Waraku, a stylish, relaxing restaurant located on the second floor of Yu-an, is where guests can come enjoy a quick coffee, some lunch, or a full dinner and drinks.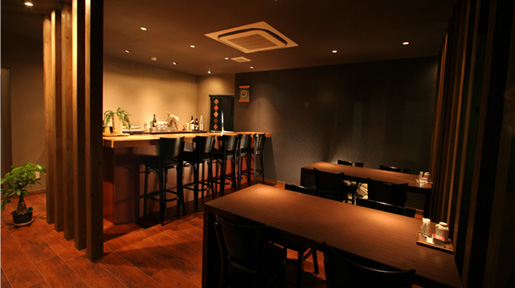 Address
Kameko 1526-1, Ueki-machi, Kita-ku, Kumamoto City, Kumamoto Prefecture
Hours
AM11:30~PM14:30(OS)
PM17:00~PM21:00(OS) *Reservations accepted.
Closed on Wednesdays

yu-an souvenirs
Special 15th Anniversary Campaign!
Waraku Kiseki no Tare Sauce
Real restaurant-level flavor in a single bottle!
•No need for extra seasoning – our sauce works with everything!
•Can be used for cooking, or poured directly on food!
•Perfect as a secret ingredient for stews!
•Savory, rich red wine base
\780 (tax excl.)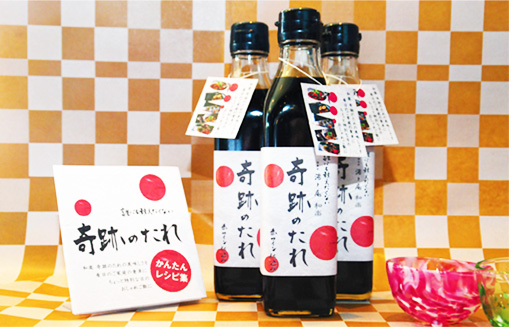 Lunch menu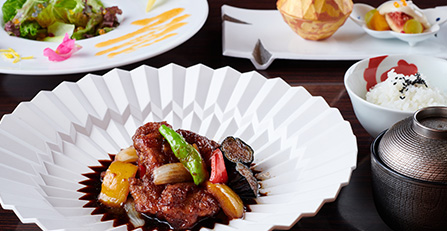 Miracle of sauce lunch

Small bowl, salad, herb chicken pepper grilled
· Shichijo natural cultivation rice, miso soup, pickles
| | |
| --- | --- |
| Kiseki no Tare Lunch | |
| Waraku Special Daily Lunch | |
| Healthy Veggie Lunch | |
| Hot Inaniwa Udon w/ Tempura Lunch | |
| Cold Inaniwa Zaru Udon w/ Tempura Lunch | |
| Fried Chicken and Rice w/ Raw Egg Lunch | |
| Kumamoto Japanese Black Beef A5 Sirloin Bowl Lunch | |
| Kumamoto Japanese Black Beef A5 Sirloin and Vegetable Warm Inaniwa Udon Set | |
| Kumamoto Japanese Black Beef A5 Sirloin Warm Udon Mini A5 Sirloin Bowl Set | |
| Nagomi Town, Kumamoto Prefecture Fire ex-pork shabu-shabu lunch | |
Lunch is served from 11:30AM to 3PM

Cold
| | |
| --- | --- |
| Cold Zaru Udon: | |
| Cold Udon w/ Creamy Yam | |
| Cold Zaru Udon w/ Grated Wasabi | |
| Cold Zaru Udon w/ Spicy Cod Roe | |
| Zaru Udon w/ Grated Plum | |
Hot
| | |
| --- | --- |
| Hot Udon w/ Chicken and Vegetables (Soy Broth) | |
| Hot Udon w/ Pork and Vegetables (Miso Broth) | |
| Hot Udon w/ Chicken, Vegetables, and Egg | |
| Spicy Hot Udon w/ Black Hog Pork and Vegetables | |
| Hot Toromi Udon w/ Yuba Tofu and Shrimp | |
| Hot Toromi Udon w/ Spicy Cod Roe and Black Hog Pork | |
| Beef ribs and mizuna sashimi warm udon noodles | |
| Thick and warm udon noodles with black pork and cabbage | |
| Konjac udon with herb chicken and vegetables | |
| Konjac udon with black pork and vegetables | |
| Spicy konjac udon with black pork and vegetables | |

| | |
| --- | --- |
| Healthy Vegetable Course | \1,980 |
| Hana Course (8 dishes) | \3,500 |
| Miyabi Couse (9 dishes) | \4,500 |
| Tsuki Course (10 dishes) | \5,500 |
| Ten Course (11 dishes) | \6,500 |
| *All-you-can-drink value course | \1,500 |